"I work with exceptional colleagues. They are all incredibly hard-working and committed to performing beyond the call of duty."
Meet our IDR Team – Milann Vermeulen
What does a typical day at IDR look like for you?
Unlike most people, I delay my morning caffeine rush in lieu of a healthy smoothie on my way to work while navigating the Cape Town traffic. I opt for this as I need sustained energy to run the team through the tasks for the day and outline anything urgent that requires our attention. This is followed by the occasional calls with clients, assisting the team with KYC review escalations and management reporting. Once client satisfaction is ensured, I enjoy a nice cup of coffee. After all, I am a Capetonian coffee snob.
What is it like to work at IDR?
Every day has its own challenges and opportunities. Whether I am dealing with client queries or answering investor requests, no day is identical. Luckily, I work with exceptional colleagues. They are all incredibly hard-working and committed to performing beyond the call of duty. I also enjoy growing my skillset whilst working for a progressive and innovative company.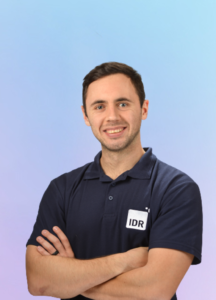 What's your background?
I have a law degree from the University of Stellenbosch in South Africa. I completed my articles of clerkship at a medium sized law firm in Cape Town and practiced as an attorney for a few years. Seeking exposure to more growth opportunities and different industries, I joined a top-tier fund administrator, joining their Private Debt and Capital Markets team. After advancing in the team, I was offered a position at IDR – a decision I'm glad I made!
What's been your biggest accomplishment at IDR so far?
As one of the first employees in the Cape Town office, I had the pleasure to assist in establishing a unique and interactive office culture. I am proud to have added South African flavour to IDR.
What is a moment/experience you've had that made a big impact on who you are today?
Growing up in South Africa has taught me that no matter where you come from, the desire to succeed is innate to all people. As a result, I will always work hard to provide for my family and assist my community to the best of my abilities.
What's on your bucket list?
My fiancé adores shopping, so I want her to experience shopping in the malls of Dubai. Don't get me wrong, the item on my bucket list is not as simple as taking her there, it's finding her once I let her loose!
What do you enjoy doing when you're not working?
I'm an avid mountain biker and spend my Saturday mornings exploring all the beautiful trails Cape Town has to offer. I also enjoy hiking and keeping fit in general. And, after all this physical exertion, nothing beats napping next to my snoring pug.