Team synergy is one of our biggest strengths. IDR is unity. #OneIDR.
Meet our #IDRTeam – Attiya Durbarry
What does a typical day in your life entail?
My day starts with a warm cup of black coffee while going through my inbox and Teams messages. I then move on with any tasks on my to-do list, daily meetings, and updates. As a Developer, I collaborate with other developers in the business and work on many exciting projects.
What is it like to work at IDR?
Team synergy is one of our biggest strengths. IDR is unity #OneIDR.
At IDR we also get to work with people from different cultures, and backgrounds who bring different skill sets and ideas to the table. Everybody is very friendly and helpful. #IDRTeam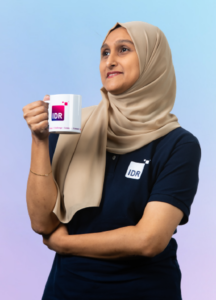 What's your background?
My educational background consists of a degree in Computer Science and Engineering at the University of Mauritius and a Masters in Business Administration from the Management College of Southern Africa (MANCOSA). I have been working as a developer for nearly 11 years, mainly in .NET technologies in FinTech and Fund Management companies.
What's been your biggest accomplishment at IDR so far?
Being among the first employees in IDR's Mauritius office, my first two projects were not simple ones. Having to understand the entire system, architecture and at the same time executing the project required a lot of focus, but upon completion, there was a great sense of accomplishment and satisfaction. It was not only a personal achievement, but it was the collective effort of working in a great team as well.
What is a moment/experience you've had that made a big impact on who you are today?
Transiting from university to the professional world. During this transition, I realised that the world is fierce. It's not that comfort zone we are used to at home or when you are a student. This realisation made me grow and progress further in my career. It also gave me the opportunity to improve my self-mastery.
What's on your bucket list?
I want to ramp up my knowledge about newer technologies and improve my soft skills.