"Working at IDR allows you to grow and develop into a team player yet hold onto the unique quirks and identity which makes you, you"
Meet our IDR Team – Kade-Marie Brink
What does a typical day at IDR look like for you?
What is great about IDR is that every day is different. After being greeted with an office of energetic morning folk, I grab a cup of coffee and get ready to expect the unexpected. I'll usually start by catching up on any fund closing related developments which might have happened overnight, before reviewing and prioritising my actions for the day. No two days are the same and I enjoy the feeling of not having a "typical" day as you're always kept on your toes.
What is it like to work at IDR?
Working at IDR allows you to grow and develop into a team player yet hold onto the unique quirks and identity which makes you, you. You're encouraged to be creative and to contribute your ideas in a fast paced, collaborative environment.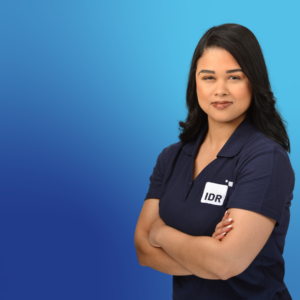 What's your background?
I am an admitted attorney born and bred in Cape Town. I graduated with an LLB at the University of Cape Town and then completed my articles at a law firm in Cape Town where I worked as an associate after admission. I made the leap to enter into AML shortly thereafter when I could feel I was being pulled from the traditional realm of private practice. I worked at a global asset management company before making the move to IDR.
What the best career advice you have ever received?
Don't be afraid to make mistakes and be prepared to make mistakes often. No one enters any field of work as an expert, so you're bound to bump your head a couple of times as you navigate and grow. Learn from your mentors and seek help early. Those who are more successful than you really only have one thing that you don't have (yet) – experience, so take in as much advice and guidance on your journey up.
What is a moment/experience you've had that made a big impact on who you are today?
I would have to say being admitted as an Attorney of the High Court of South Africa. My independence and career is an aspect of my life which I strive to excel in and being admitted was a culmination of all my training and dedication till that point.
What's on your bucket list?
In no particular order it would have to be going on a hot air balloon sunset trip in Turkey; experience the large swing in Bali and own a home with my family with lots of fur babies.
What do you enjoy doing when you're not working?
I love being at the gym, exploring new walk trails or hiking and brunch dates with friends. My first love will always be dancing and although I no longer compete there's nothing better than social classes to get the endorphins pumping.