Charity effort produces over £1,000 and 20 inches of hair
As published in Guernsey Press, written by Emily Hubert
To celebrate his accomplishment a haircutting event was held, with Sam Phillips from local barbershop Harper-Rae performing the task free of charge. Harper-Rae also donated to the trust and pledged to continue trimming Mr Jordan's hair for free so it grows out properly.
'Back in 2017 a colleague and I were discussing different ways to support charities and, with my hair always being short previously, we decided that to grow it specifically for a charitable reason would be great,' Mr Jordan said. 'It is important to support the LPT as the work they do can have an extremely positive effect on the mind of a young person that has lost their hair. This is all done free of charge for the recipient and runs solely off of donations.'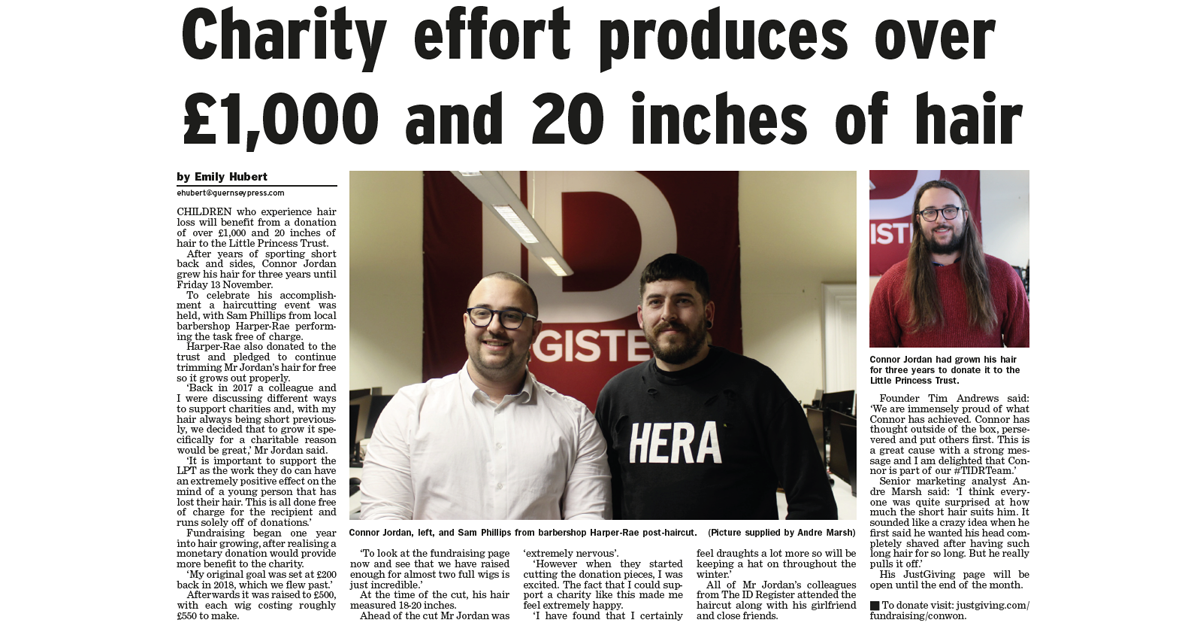 Fundraising began one year into hair growing, after realising a monetary donation would provide more benefit to the charity.
'My original goal was set at £200 back in 2018, which we flew past.' Afterwards it was raised to £500, with each wig costing roughly £550 to make. 'To look at the fundraising page now and see that we have raised enough for almost two full wigs is just incredible.'
At the time of the cut, his hair measured 18-20 inches. Ahead of the cut Mr Jordan was 'extremely nervous'.
'However when they started cutting the donation pieces, I was excited. The fact that I could support a charity like this made me feel extremely happy. I have found that I certainly feel draughts a lot more so will be keeping a hat on throughout the winter.'
All of Mr Jordan's colleagues from The ID Register attended the haircut along with his girlfriend and close friends.
Founder Tim Andrews said: 'We are immensely proud of what Connor has achieved. Connor has thought outside of the box, persevered and put others first. This is a great cause with a strong message and I am delighted that Connor is part of our #TIDRTeam.'
Senior marketing analyst Andre Marsh said: 'I think everyone was quite surprised at how much the short hair suits him. It sounded like a crazy idea when he first said he wanted his head completely shaved after having such long hair for so long. But he really pulls it off.'